The environmental, social & economic benefits of reducing our e-waste.
In 2020, the world generated a record 53.6 million metric tonnes (mT) of e-waste – in just 12 months. Weighing more than all the commercial airliners ever built, that waste had an estimated economic value of more than US $ 57 billion, according to the Global Waste Monitor report.
We currently live in a linear economy – a throwaway culture of take, make, use and dispose. If something breaks or the technology becomes old or obsolete, we simply discard it and buy a new one.
Following the 2015 Paris Agreement, environmental policy has become a huge priority as the world strives to reach net-zero emissions by 2050; aiming to limit global warming to 1.5 degrees by the end of the century. Whilst efforts focus greatly on the importance of renewable energy sources, the everyday products we use generate 45% of total global emissions.
What is e-waste?
Broadly defined as anything with a battery or a plug, e-waste also includes USB powered devices, such as an external hard drive. With an increasing global population, growing consumer demand, rapid tech innovation and falling prices, how do we switch to a global mind-set of reusing, reducing and recycling our technology?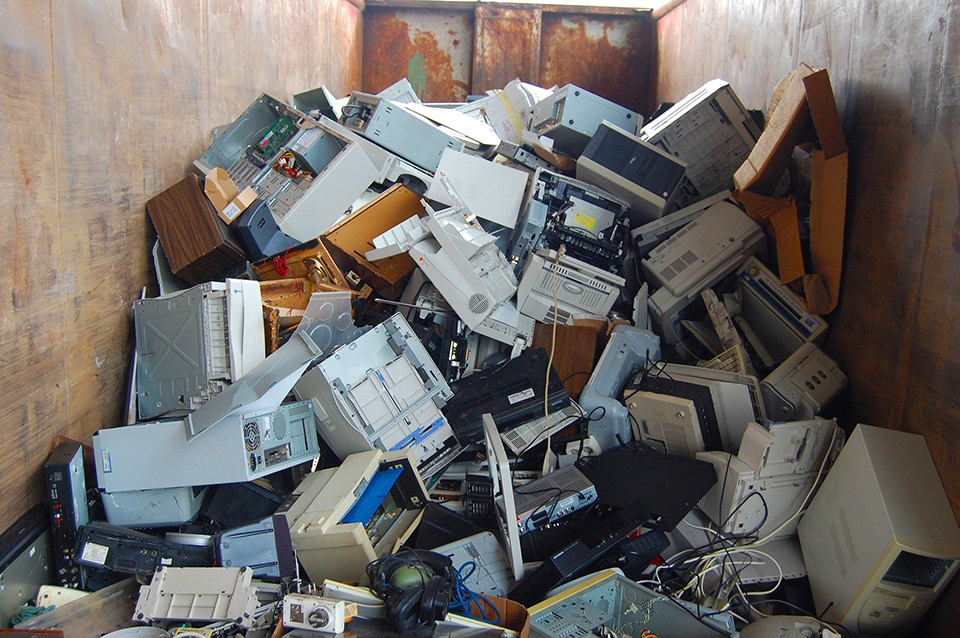 The world's natural resources are finite. Extraction not only depletes them but increases energy use and CO2 emissions. Despite widespread awareness of climate change, of the 53 million mT of e-waste created in 2020, only 17% was recycled. The remaining 83% of untraced waste is said to have been imported into Africa where informal recycling occurs. Modern electronics contain up to 69 elements from the periodic table; lack of awareness and legislation has exposed unprotected workers to the carcinogenic lead, cadmium and mercury found in computers.
Most electrical and electronic components are not biodegradable; they won't breakdown in landfill. In fact, hazardous and toxic waste from dumped devices contaminates our soils and groundwater, while Lithium I-on batteries pose a significant fire risk when buried.
The UN has made it clear to the world's nations that they must get on top of their e-waste management.
What are the benefits of the circular economy model?  
In March 2020, the circular economy action plan was presented by the European Commission to update sustainable waste management legislation. The economic model aims to expand the lifecycle of electronic products, reducing waste by reusing, repairing, refurbishing and remanufacturing equipment.
With the world facing an environmental crisis, the circular economy has never been more important as it helps mitigate the effects of climate change. In February 2021, The European Parliament passed additional measures to achieve a carbon neutral, toxic-free circular economy by 2050, including tighter recycling rules and targets for materials use by 2030.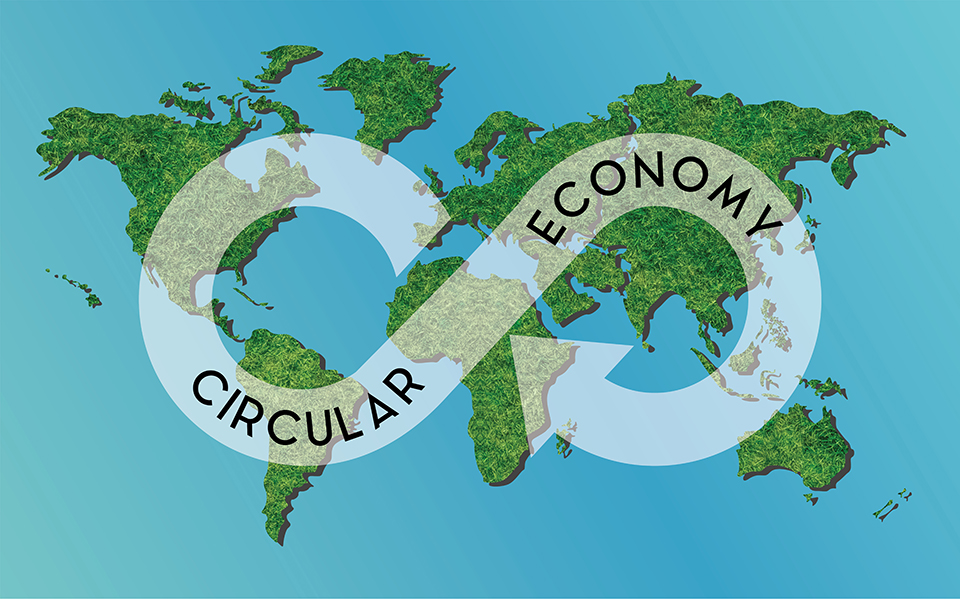 What can the tech industry learn from the circular economy principles?
A report by Platform for Accelerating the Circular Economy (PACE) and the UN e-waste Coalition has called for a complete overhaul of the electronics system, emphasising the need for a circular economy in which the earth's valuable resources are no longer extracted, used and discarded. Products should be valued, to not only protect the environment and save money for consumers and business alike, but it also for the overall economy. By creating business and employment opportunities, the circular model could boost a country's GDP by as much as 0.5%.
Durable product design & dematerialisation.
By only producing what can be reused or recycled, manufacturers can change consumer habits at source by adopting a new production model. After all, you cannot reuse or recycle components that cannot be removed from devices, so technology needs to be designed from disassembly and regeneration from the very outset.
Tech giant, Apple, have previously faced criticism for their devices construction. They were the first to launch a smartphone with an irreplaceable battery and their AirPods, with their unopenable plastic shell, only have lifespan of 18 months. Whilst there is an AirPod recycling scheme, in reality, the cost of recycling, supersedes any residual value.
Dematerialisation is another circular concept, replacing outright ownership of devices with a leasing model. Similarly buy-back and return schemes give consumers can ensure they have updated technology whilst the opportunities for reuse or recycling are maximised. Hewlett Packard have initiated hardware return program for their business customers, which has helped to give a new lease of life for servers, storage and networking products.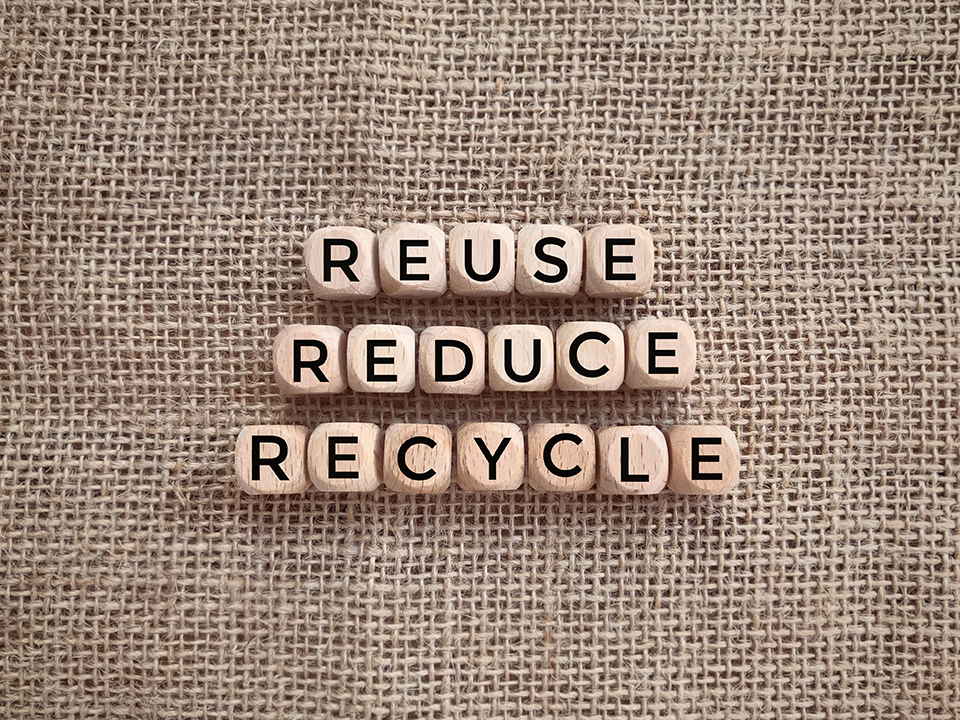 Refurbishing and reusing is good for business.
E-waste represents an important source for the secondary economy. Making use of the technology we have already produced increases the lifetime value of the component itself. They can then be used to re-enter the manufacturing process as a secondary materials; reducing the need to extract new finite raw materials.
Upgrading obsolete or end of life IT assets is a highly cost-effective way to upgrade devices to A grade standard, increasing longevity and the lifetime value of a corporate asset that may have previously been discarded. By using your ITAD partner, you will also protect your company data and guarantee secure data erasure; every device will receive its own accreditation documenting the ITAD chain of custody.
By upgrading components rather than the entire device, IT departments can demonstrate their commitment to the circular economy and contribute to the UN Sustainable Development Goals. It's good for business as an increasing number of B2B decision makers seeking environmentally responsible partners. In addition, a 2020 report by IBM and the National Retail Federation found that 77% of consumers report that sustainability is important to them and that they are willing to pay more for the responsible brands they seek out.
ITAD disposal services are regulated by the Waste Electric and Electronic Equipment (WEEE) Regulations 2013, so they are already focused on their 'reuse, reduce, recycle' ethos, offering free IT asset disposal or mobile device recycling. Some IT asset disposal companies have a zero landfill policy and hold ISO 14001; the international standard for Environmental Management – demonstrating their commitment to environmentally friendly ITAD. Not only does this route ensure complete data destruction, the safe disposal of redundant IT equipment and the avoidance of any data governance issues, buy-back schemes mean that you will receive a residual payment for recycled components for the remanufacturing process. Legacy or surplus IT equipment can provide additional revenue when you sell redundant IT assets.
Recycling & infrastructure.
Whilst some elements of our electronics are hazardous, others are very valuable. Some of the world's most precious, special and finite metals, minerals and ceramics are used to construct the devices that we use every day.
It is estimated that 50-60% of the world's tungsten, 26% of the planet's tin and as much as 9% of the world's gold can be found within our electrical devices. In fact, there is 100 times more gold in a tonne or e-waste than there is a tonne of gold ore – and a single integrated circuit chip contains a retrievable 7 – 9 grams of gold. These valuable metals can be extracted and repurposed in an environmentally friendly way; 'Urban mining' presents substantial economic opportunity.
When you think of recycling, you are likely to think of plastic, glass, tin and paper. There are very few large-scales plants currently managing the disassembly of electrical devices at any scale. There is a need for greater investment and model adoption by policy makers to support new, innovative solutions to integrate the informal e-waste recycling sector into the circular economy. In 2019, the Nigerian Government, the Global Environment Facility and the UNEP announced a US $15 million circular e-waste system in Nigeria, formalising safe employment whilst capturing the value of 500,000 tonnes of e-waste in Nigeria alone.
E-waste is one of the biggest environmental changes of the 21st century with projections reporting that e-waste will double by 2030 and that we are on track to produce 120 million tonnes of e-waste by 2050.
Changing consumption habits of the entire world is not something that will happen overnight and there are calls for governments and policy makers to incentivise manufacturers, as it just is not enough for one or two to embrace the circular model. To scale, it demands widespread adoption by every organisation, big, small, local and global.
By retaining the products we already have in the system and not wasting components that still hold value, we can bring economic and social benefits whilst increase the planet's resilience to climate change – reducing the demand for virgin materials and closing the loop on the circular economy.
Contact us today on 0161 777 1000 or visit https://www.tier1.com to find out how we can help you dispose of your data safely and reliably.
---
Resources.
European Parliament, Computer World,  UN Environmental UN Environment Programme, Environment and Energy Leader, Sims Lifecycle, Ellenmacarthurfoundation.org, Platform for Accelerating the Circular Economy (PACE), the UN e-waste Coalition, IBM and the National Retail Federation, Ellen MacArthur Foundation and Material Economics white paper – Completing the Picture. How the circular economy tackles climate change,